CampEasy Review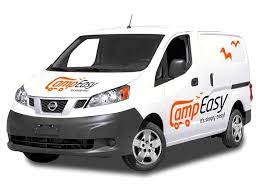 When I went to Iceland this year, I lived in a van for 12 days. If you are planning to visit Iceland, I recommend that you do the same. Me, Alex and my best friend Sofia were traveling in the comfortable "Easy Big" CampEasy motorhome, and we couldn't be happier with our choice to explore the country.
Road tripping in a motorhome is a great way to discover Iceland. You have the opportunity to get closer to nature, while being more flexible and living a simpler life! 
 
In this article, you can read my experience of traveling to Iceland with CampEasy, why you should rent a motorbike and why you should rent a motorbike with CampEasy!
Why you should rent a camper van in Iceland
Traveling with a camper van is the best way to explore Iceland. A campervan gives you freedom, flexibility, and a chance to be closer to nature – which is great if you ask me. There are several reasons why you should get a camper van during your next trip to Iceland, and here are some of those reasons:
You don't have to worry about finding good/cheap accommodation.
You don't have to worry about check-in/check-out times at hotels (you can drive to your next destination how early in the morning you want, and park at campsites or other allowed places late at night)
You can wake up to beautiful mountain views every morning.
It gives you freedom and flexibility.
You get the chance to be closer to nature.
You get to experience the simple life (which is a great experience)
What camper van to choose with CampEasy
It all depends on how many people you are and how much space you want during your stay in Iceland. I can recommend the EasyBig car if you are 3 people. We are three adults and have enough space for our belongings, sleeping and cooking. There were three seats in the front of the car. 
If you divide the cost into three parts, it's not that expensive considering what you get.
What you get in an EasyBig Campervan:
Unlimited km/miles
Seats for 5 people
Bed for 5 people
Quality Gas Stove
Linen, Pillows, Duvets
Cookware & Kitchenware
Sink with Running Water
Refrigerator / Cooler
Two Extra Batteries for electronic use
Webasto Heating System
Radio / CD / Bluetooth
Insurance Included
What it's like to live in an Easy Big camper van for 12 days
It was my first time in a car during my trip to Iceland and I have to say it was a success. The car is very comfortable to sleep in, there are many places to store our luggage (we use the top bunk for our luggage) and we even have a small kitchen to cook our own food (good way) main savings in Iceland). ). It is also good to heat that we use at night because it can get cold in winter.
Of course, it takes time to adjust to RV life and travel, but once you get the hang of it, you'll love the experience!
Insurances and other fees
Insurance 

We had SCDW insurance and also Gravel Protection insurance during the time we had the motorhome. The SCDW is good if anything happens to the car, which I'm very lucky as we got hit by a truck. And Gravel cover is a must. I don't know how many chips/cracks we have on the windows and scratches on the car from the gravel on the road. CampEasy also offers additional coverage such as theft coverage, sand/ash protection, and comprehensive coverage that covers everything! 
 
Other expenses 
You can also choose to add equipment to your motorhome for an additional fee. They provide chairs/tables, BBQ, WiFi, inverters, flashlights, hiking poles, guitars, coffee makers, towels, maps, GPS, camping maps, baby seats and more! They also give you a fuel discount card and a CampEasy scarf to keep you warm in the winter. 
 
I can recommend adding WiFi, as buying a local SIM card with data is expensive in Iceland, WiFi in the campervan also works great! Note that WiFi only works when the car is on. I can recommend you to choose an inverter, which is good if you want to charge your devices while driving.
What happens if something happens to the car?
Yes, I am an expert since what happened to our car while we were driving at night (which I do not recommend you do). We were looking for a place to stay, and it was getting dark outside and it was snowing. We drove carefully because there might be wild animals running on the road and because it was slippery.
What I learned from my experience driving in Iceland is that truck drivers can be very stressed and angry while driving. So when we were driving, we were driving in the middle of the road (because it was slippery on the side), I saw a light behind us and started driving well aside (because I don't want to head off the road). ). In fact, there was an angry driver behind us honking his horn and flashing his headlights. He didn't give us enough time to drive to the side of the road and he got angry and drove towards us and broke our side glasses with a speed. We almost went off the road. We started teasing him, but he didn't have a hard time stopping to see if we were okay.
So, now, you might be wondering what would happen if this kind of thing happened to you? I have to say that CampEasy got us the help we needed quickly and helped in this kind of situation. We emailed them that night, told them on the phone the next day and sent the part to the car so we could fix it the next day in a nearby town (we were there) the east of the country, and its parts. it was sent to the west). It only took 15 minutes to fix the car and get back on the road! 
Thanks for helping CampEasy!
Summary of my experience with CampEasy Iceland:
I'm so happy with the campervan that CampEasy provided for us. It was spacious, had everything we needed and was comfortable to both drive and sleep in. I think it's worth the price if you share your camper with a partner or friends. Their staff was very helpful and friendly both before and after our accident, and we felt that we could ask them anytime if we had any problems.
Our overall experience of CampEasy has been great, and I can highly recommend you to rent a campervan with them while you're in Iceland.