Heyzine Review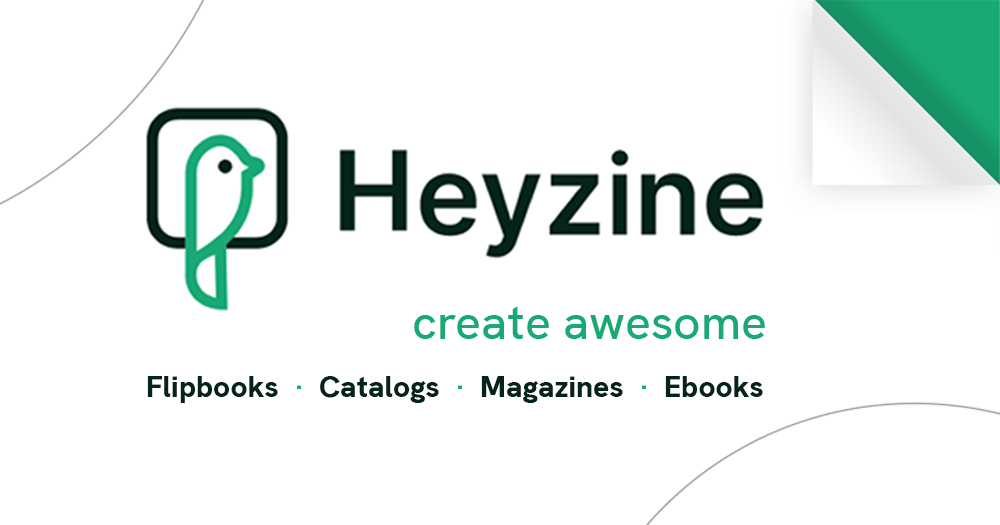 Service to convert a PDF to an online flipping book or slideshow with different page flip effects. It's highly customizable with branding, backgrounds, navigation, control styles, and more. It supports PDFs with any page size, even non-standard ones, and the resulting flip book is supported on all mobile and desktop devices, it automatically generates share links with thumbnails, gifs, and QR codes. After uploading your files, you will have a dashboard to manage, publish and edit your flipbooks. The service is free with no ads and you can share your flipbooks, fast and easily.
Flipbook maker
Convert a PDF of any size and customize it with a realistic flipping page, slide and coverflow effects. Change logo, text, icon styles, pagination and much more.
Free
Convert pdf to flipbook magazines for free without ads or watermarks over the publication. Link, share or embed at no cost.
Interactive publications
Make an interactive PDF by turning it into a flipbook. Add links, audio, video, forms, web embeds, and many widgets to engage your audience and capture their attention.
Share
Automatically generate different link styles with the cover and QR codes to quickly share the flip book by email, social media, and everywhere else. Choose the embed style that best matches your website and start publishing flipbooks easily.
Page turn effects
You can choose between five different turn page effects: flipbook magazine, book, slider presentation, cover flow and one page flip. We also support Right-to-left flipbooks.
Responsive
The PDF can have any page size A4, A5, portrait, landscape, and non-standard sizes. The converted flip book will resize according to the device. They look great on mobile phones, tablets both in android, iOS, and all the desktop browsers.
Customization
After the conversion, you can customize the publication, changing the logo, background, text, navigation control styles, and much more. You can make the flipbook look the way you want quickly and easily.
Videos, audio and pictures
Add interactive videos, audio, pictures, and gif to your flipbook to create more immersive publications and engage your audience.
Links and web iframes
Create links between pages or between flipbooks. Use web iframes to embed maps, calendars, agendas, panoramas, forms, payment gateways or any kind of web content.
Share
Automatically get different thumbnails and styles to link or directly share everywhere. The link previews will look good on all social networks.
Flipbook statistics
Discover how many visits your flipbooks have, where your readers come from, the links and media they click, and the flipbook pages they find more interesting. Analyze your visits to learn and improve your content.
Privacy and security
Your content is private by default, we never share it without your consent. For more security you can also protect your flipbooks with user name and password. You can even restrict where your flipbooks can be embedded.
Download offline flipbook
It is also possible to download the html flipbook for offline viewing or to host it yourself on your website. The download has no external dependency on heyzine or the internet.
Free
The Heyzine free pdf to flipbook converter don't bother you with annoying watermarks and ads. Our viewer is watermark free, so your flipbooks will look professional without having to pay anything.
API access
If you are a developer, we have an API you can use to automatically convert your flipbooks. Our API is fast, reliable and very easy to integrate in any system.
Convert a PDF of any size and customize it with a realistic flipping page, slide and coverflow effects. Change logo, text, icon styles, pagination and much more. It's free without ads and watermarks. Link, share or embed with your own brand style at no cost.
Best For
Online publishers and editors, magazine, catalog and brochure creators and designers.