If your New Year's resolution is to make more money, then we've got the perfect opportunity for you. Passive income can change your life, and digital assets are a proven avenue to making this possible. But where do you start?
We heard from a few writers in our community that they liked using Book Bolt to create quick, low-content books to publish on Amazon. We trust your judgement, so we decided to check it out for you.
Let's get into what exactly Book Bolt is, and all that it offers.
What Is Book Bolt?
Book Bolt is a beginner-friendly low-content book publishing software that allows you to create books from scratch.
Not only that, it allows you to scale a book publishing business without writing a single word. Book Bolt offers a lot not only to business owners but to writers of all different types.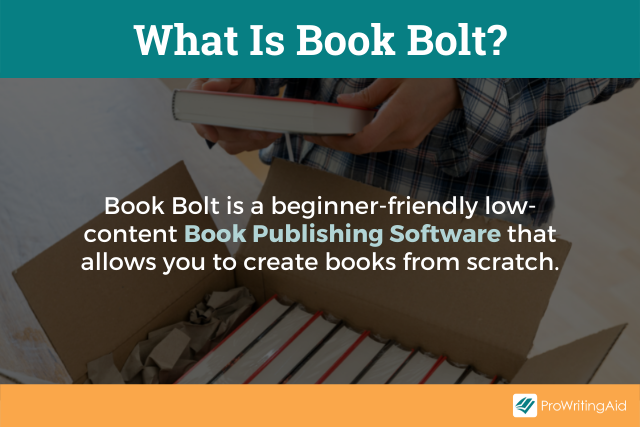 Book Bolt ties product and keyword research together with design in a single comprehensive tool. It also has a few other really cool features such as niche suggestions and competitor spying.
We checked out their reviews to see how their users use the tool:
"Lets you create no content books in several formats, including wide-ruled, journal, college-ruled, and sheet music."

"With this program, you can develop one or many no-content books and easily list them on Amazon's KDP."

"You can search for the most demanding niches, keywords, and designs. The cover creator makes sure the right proportions of your cover are in order and that you have the most enticing photos and texts for your novel."
Book Bolt will help you with all stages of publishing for your low-content book. When they say self-publishing, they mean it.
What Are Some Book Bolt Features?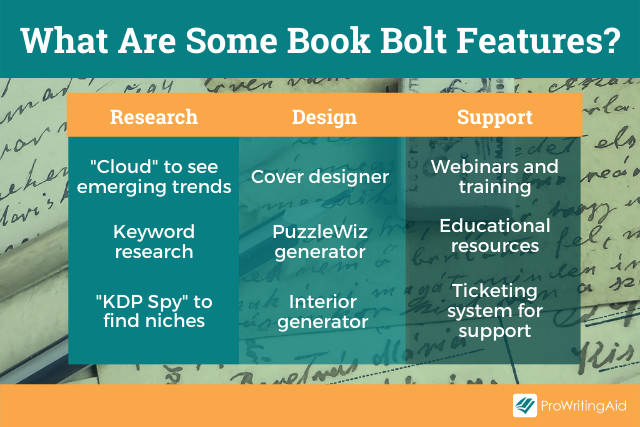 Book Bolt's major features can be classified under three categories:
Research
Design
Support
Research
Book Bolt offers several features to ramp up your research game. It has a tool called "Cloud" that allows you to easily find emerging trends and hidden niches. Wouldn't it be great to hop onto trending low-content books before they even become mainstream? Book Bolt also offers user-friendly keyword research, which presents Amazon search volumes in real time so you can get ahead of your competitors.
Alternatively, you can also find niches through its Chrome extension "KDP Spy" which gives you a list of keywords and popular customer searches on Amazon.
Design
Book Bolt simplifies designing. Even if you have no previous design experience, Book Bolt makes it easy. It offers a cover designer and an interior generator. The best thing is that you don't have to do any measuring of bleed margins or think of best practices for Amazon publishing standards because Book Bolt does that for you.
Support
Book Bolt offers webinars and training on how to create low-content books and scale your business. Being a newbie to publishing can be daunting, but we found these resources easy to use. Book Bolt also guides you through the process of listing your books on Amazon KDP so you can start making money right away.
And if you hit a snag, no worries; they have a ticketing system, so know that support will be on the way.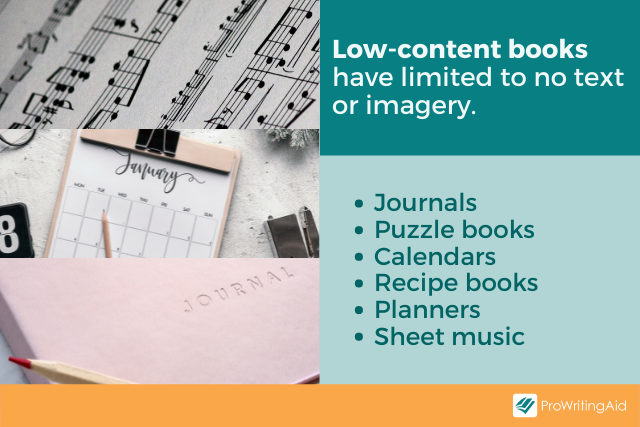 What Are Low-Content Books?
There are many genres of books out there. Of course, readers love a good plot, evolving characters, and captivating settings. But creating all of these elements can take months—years, even—and there's no guarantee that you'll get a good financial return on that time investment.
For many of us, that isn't why we write. We want to share our stories and connect with readers. But if your aim is to generate passive income in the book world, there is an easier way.
There are millions of people across the world who are looking for books that are, essentially, empty. Low-content books have limited to no text or imagery. Instead, they are spaces for readers to be creative. A few examples are journals, puzzle books, calendars, recipe books, planners, and even sheet music notation books.
Low-content books offer a number of benefits to creators:
They're easy to set up—it should take you less than a day to create one
You don't need to write anything
They're low cost to create
You don't need any inventory to start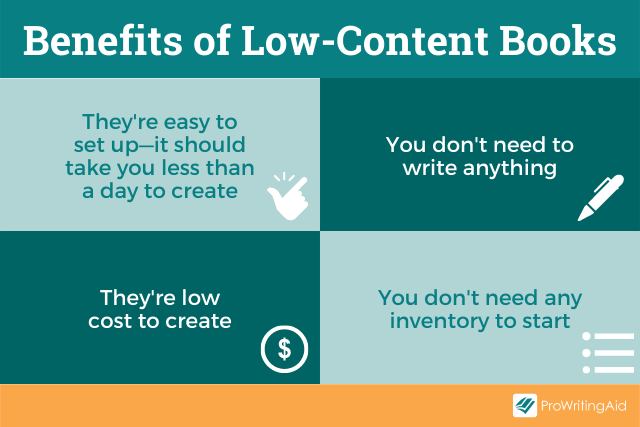 This last point is especially important. Low-content books are often print-on-demand books. They only get printed when someone orders one, so you don't have to worry about keeping stock on hand or the logistics of shipping and handling.
Types of Low-Content Books
Your first step is deciding on what kind of book you'll create. Book Bolt helps you out here, with a whole list of templates to get started with.
Here's a comprehensive list of low-content books that you can create using Book Bolt:
Journals
Calendars
Puzzle books
Prompt books
Calendars
Planners
Diaries
Log books
Coloring books
Activity books
Guest books
Music composition notebooks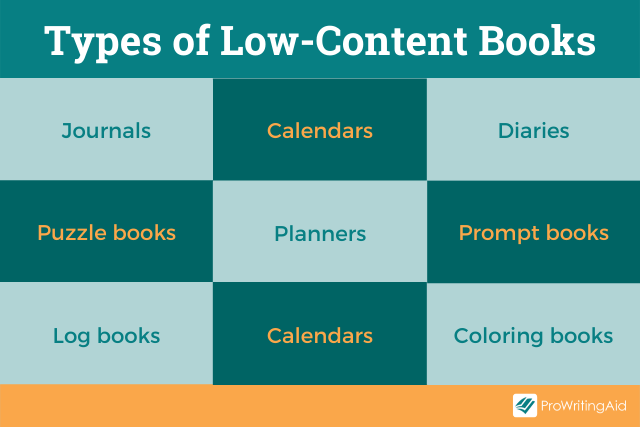 While this is a generic list, the possibilities are almost endless. That's because there are niche areas that you can get into—adult coloring books, gym log books, wedding planners, etc.
Let's look into these a bit more.
1. Journals
There are many different types of journals, from your basic daily diary to the recently-popular bullet journal. Or how about a gratitude journal? More people are beginning to practice mindfulness, so gratitude journals are becoming increasingly popular. You can create one that focuses on specific prompts to help guide your readers through the process, or you could just give them a set amount of lines on a dated page so they can wing it.
2. Prompt Books
Sometimes, people need a little inspiration. In this case, prompt journals are another genre that you can explore. Give your customers something to think about. Prompt journals are popular for writers and artists. Look for a niche, like sci-fi prompts, and get creative. This one requires a little more work in coming up with the writing prompts, but if you have a creative side, this could be your chance to help others get their creative juices flowing.
3. Coloring Books
They might seem childish, but coloring books aren't only for kids, they're for adults too. That's not to say you can't create coloring books for kids. Your options include themes like animals, shapes, landscapes, etc. Of course if you're going after a more mature audience, these types of coloring books can also include nudity and profane language.
3. Log Books
Log books are good for people who want to track something. That can be expenses, meals, exercises, habits—you name it. Think of your target audience, and use Book Bolt to create a cover that would entice that group.
4. Daily Planners
Daily planners take a bit more effort to create in comparison to the other types of books on this list because there's more on the interior pages. But that's also what makes them one of the best types of low-content books. Your unique twist will separate you from the competition. The key here is research and planning what niche and sub-niches you can target. And of course, Book Bolt offers keyword research to help you get started.
How Does Publishing on Amazon KDP Work?
Amazon KDP (Kindle Direct Publishing) is a platform within the Amazon marketplace that allows anyone to sell and publish books for free. And we mean anyone—it requires no experience whatsoever.
Traditional publishers publish low-content books, too. But if you're a designer, or a content writer, you may not get credit for the books your work on. The publisher will also take the biggest cut of the revenue, and you won't have 100% control over the publishing process.
KDP allows you to publish on your own and go where your potential readers are. You have full creative control, and you get 100% of the profit.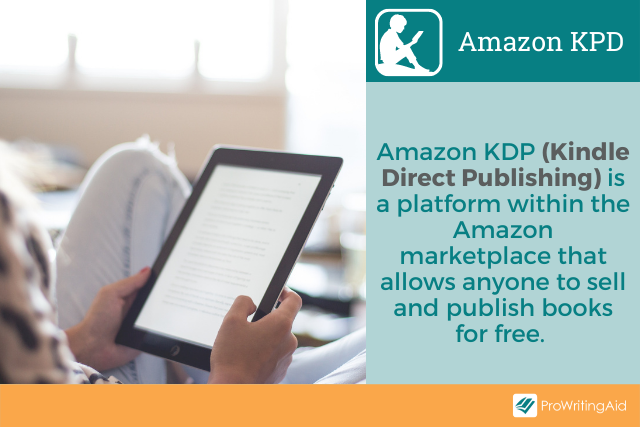 But why Amazon specifically? Amazon controls almost half the US market for printed books. Love it or hate it, if you want to make money publishing low-content books, you'll probably need to do it on Amazon.
Now, back to how Book Bolt works. In order to self-publish with Book Bolt, there are a few steps:
Creating a KDP Account
Sourcing or creating your designs/artwork
Building your no/low-content book interiors
Firstly, you need to create a KDP account, where you'll be prompted to give some basic information in the "My Account" section. These include your country, full name, address, and phone number. Secondly, they'll require your banking information, and lastly a few tax-related questions. Honesty is the best policy when filling out this information.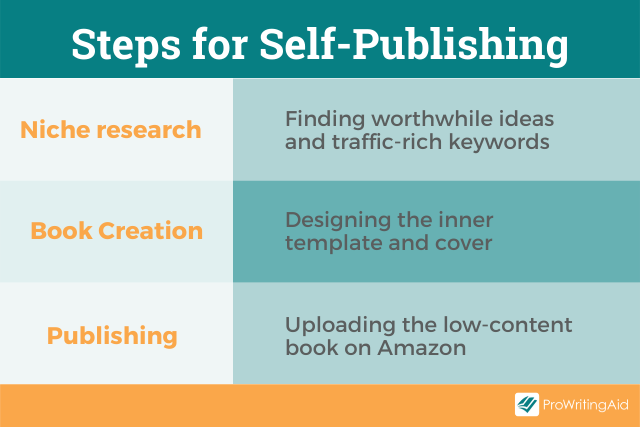 Book Bolt has been built with publishing via KDP in mind. We found that the tools they offer map clearly to the publishing process on Amazon.
Creating and publishing a low-content book requires three steps.
You can complete the first two on Book Bolt before heading over to Amazon:
Niche research: finding worthwhile ideas and traffic-rich keywords.
Book creation: designing the inner template and cover.
Publishing: uploading the low-content book on Amazon.
In order to understand exactly how Book Bolt works, we're going to briefly walk through the book creation process.
1. Niche Research
Using Book Bolt's Cloud feature, look at the categories of books that are most popular. You can also niche down by searching specific keywords. This is the first step in identifying what's selling versus what's not.
2. Book Creation
Book Bolt grants you easy access to designing both covers and the interior. The first is creating the cover, and its toolbox is easy to use. Firstly, you pick a size (there are 16 options), then you begin designing. You can add background images, shapes, and different colors. You can use your own images or you can choose from the thousands of royalty-free images that Book Bolt has.
Now it's time for the interior. You can either use Book Bolt's interior wizard, where you can simply choose from the templates available, select the template, size, and pages, and then click download. Or you can design from scratch, in the same way you would have created your cover. Book Bolt is your oyster!
3. Publishing
When your book is complete, all you have to do is upload it using the KDP account you created. Book Bolt also has a listing tool that makes this hassle-free. Simply create a profile and enter all your book metadata and backend information such as title, subtitle, keywords, author name, description, etc. This way, when you're uploading new books in the same niche, all you have to change is the title and subtitle.
It seems like a straightforward process, right? From our experience with Book Bolt, it is!
How Much Does Book Bolt Cost?
For all that it offers, we're pretty shocked that Book Bolt is so reasonably priced. They have two packages depending on your needs: Standard and Pro.
Both packages offer keyword and product research, cover design, Amazon search volume, competitor spy tools, and 24/7 customer support. The Pro Package steps it up a bit by offering all the aforementioned and PuzzleWizz, a puzzle-generating software. Puzzle books are another type of low-content book and with this software you can create many puzzle genres, such as:
Crossword
Sudoku
Wordsearch
Cryptogram
Word Scramble
Maze
Kakuro
Dot to Dot
Here's the price breakdown for both packages:*
Standard
Month—$9.99
Annual—$89.99
Pro
Month—$19.99
Annual—$199.99
Are There Any Free Trials?
If you aren't ready to make the commitment right away, Book Bolt offers a three-day free trial. The trial includes all of Book Bolt's features:
Keyword research
Cover design
Amazon search volume
KDP Spy
Access to 24/7 customer support
If you don't want to sign up for a free trial, there are still a few features of Book Bolt that you can access. These include:
Interior creator—equally as important as the front design, an attractive interior will set your book apart. Book Bolt gives you access to hundreds of templates and designs to choose from.
Category finder—listing your book under the right category helps your customers find them more easily. Book Bolt gives you suggestions for low, medium, and highly competitive categories.
Interior PDF combiner—Book Bolt also offers you the ability to integrate PDF interiors without ever having to sign up.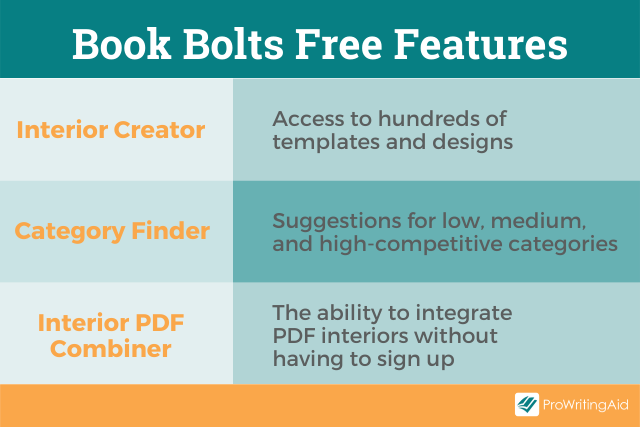 Are There Any Discounts?
Yes! You can get 20% off Book Bolt with the code prowritingaid.
Just an FYI, the link above is an affiliate link, which means that we will receive a small commission at no extra cost to you. This helps us to keep improving our editing software for you so that the words you do write in your low-content book can be polished and error-free.
Book Bolt Options: Any Alternatives?
We also had to take a look at the possible alternatives to Book Bolt. There are a few software options that can offer at least one of Book Bolt's features, but none that offer them all. Let's get into it.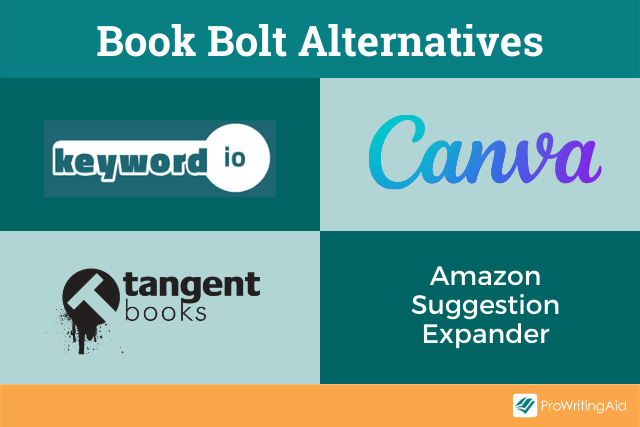 Canva
Canva is a user-friendly designing software. It offers thousands of templates from different categories that you can use when designing your interior or cover. However, there are fewer low-content book specific templates here.
Canva is free but there are certain elements or templates that are locked behind a paywall. However, they do have a 30-day free-trial period (you have to provide your credit card information, though).
Amazon Suggestion Expander
If you're looking for help with research, Amazon Suggestion Expander is a KDP niche research extension that shows you what your customers are searching for. This will help you to identify what niche products are most popular.
Keyword.io
This is a free tool that allows you to find keywords and niche ideas for your low-content books. They specialize in long-tail keywords and allow you to filter those that are useful to you.
Tangent
Tangent comes the closest to Book Bolt in terms of packaged offerings. It allows you to design the cover and can generate interiors. It has a one-time fee and the interface is pretty top-notch. However, it doesn't offer keyword research like Book Bolt does.
In conclusion, as far as alternatives go, there isn't any single software that offers every feature that Book Bolt does. Of course, you could always just have a number of different software applications doing different things, but we think having everything in one place is pretty efficient.
Book Bolt Review Conclusion
Book Bolt is worth it. It's the only software that offers you keyword research, cover design, interior generation, and KDP Spy abilities all in one convenient package. It offers everything you need if you're interested in creating low-content books. If you need any help getting started, Book Bolt also has a blog with tons of resources to help you on your journey.
If you've ever used Book Bolt before, let us know about your favorite features in the comments.