Tailor Brands Review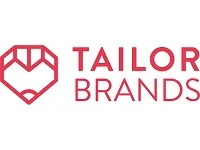 Rating 
Easy-to-use branding platform that lets you design a logo in just a few minutes
One of the best-priced logo generators on the market
Full range of advanced branding tools available on premium plan
Last Updated on February 1, 2022
Tailor Brands is on a mission to help ordinary folk build extraordinary brands online. 
The better you can make your brand look, the better it's going to perform.
People are more likely to use your services, buy your products or just visit your website if you have professional-looking branding. You don't have to be a multinational giant like McDonald's or Nike to have a great logo.
So how do you create a stylish logo for your site without investing loads of time and money?
Step forward Tailor Brands.
Tailor Brands is a machine-learning tool that helps entrepreneurs and website owners design powerful branding. You don't need a huge design budget and you don't need any technical skill to get a logo with Tailor Brands.
It's one of the best logo makers online and has helped over three million customers.
According to the company, a new logo gets designed every second. So it must be doing something right!
In this Tailor Brands review we'll look at:
Pricing
Customer support
Design quality
Additional Tailor Brands products…
And much more!
You can decide whether Tailor Brands is the right tool to create your logo. The best thing is: designing a logo on Tailor Brands is free. You can see what it looks like first before you decide to buy it.
Psst… We thought you should know…
You can save money by using our special WBE25 discount code! Although you can use Tailor Brands for free, to access its professional services you need one of its paid plans. We have an exclusive discount code so our readers can save 25% on any Tailor Brands plan! 
1
Tailor Brands Review: Pros & Cons
 
Top Three Tailor Brands Pros
#1
Ease of use
This is the first thing to highlight in a Tailor Brands review. The platform is very straightforward and getting a logo design is impressively painless. The presentation of your finished product is also top-quality.
#2
Add-on products
From Tailor Brands business cards to email signatures and social media help, the full range of products goes beyond logos. Tailor Brands wants to be far more than your logo maker; it wants to be complete solution to your branding needs.
#3
Good value for money
A wide array of supplementary products and services means Tailor Brands is good value for money. Pricing (more on this later) is clearly laid out on the website and each plan provides solid features as standard. What's more, you can get a range of logos designed for free – what's better value for money than that?
 
Top Two Tailor Brands Cons
#1
No phone support
As any of you who have created a website will know, being able to speak to someone on the phone can be a huge help. So it's a bit of a downside that Tailor Brands doesn't offer phone support. That said, email support is quick and helpful, and the site is full of in-depth guides.
#2
Limited customization
Tailor Brands does not provide one-on-one consulting with a designer to deliver a uniquely personalized logo. But it's important to remember Tailor Brands logos are not pre-made and you can make tweaks, such as to the font and color schemes. Logos are created on the spot, based on the information you have given to the company.
2
How You Use Tailor Brands & What You Get
"It took less than 10 minutes for Tailor Brands to give me a complete corporate identity."

For our Tailor Brands review, we decided to put this quote on the company's homepage to the test.
To get a logo on Tailor Brands, you have to answer a short questionnaire about your company and brand preferences. This includes the type of fonts you like and what your company's name is.
For our dummy run, we launched a vintage car company…
A bar tells you how much of the process you have left to complete.
You can choose whether you want a logo based on an icon, a name or an initial, and can experiment with different font styles.
Top Tip: To get the most out of Tailor Brands, think about your business before you start. Is it formal or fun? A product or a service? Local or national? Working out your business's identity first will help Tailor Brands generate the right logo for you.
Once you've finished, Tailor Brands' algorithm will generate a number of logo options based on your answers. You can see how each one would look on things like business cards, bags and T-shirts.
Here's our chosen logo on a website homepage, for example:
Overall, we found Tailor Brands' system smooth, dynamic and even fun! We liked the fact that you can go back to a previous page if you've made a mistake without starting again.
Worried that Tailor Brands sounds too robotic?
Don't be. Sure, Tailor Brands is automated but it doesn't just churn out logos at random. The results are highly personalized because they're based on the information you provide. It's pretty rare to see this level of individuality in an affordable logo generator.
It's like working with a designer, without the wince-inducing bill at the end! Of course, you won't get exactly the same creativity as working with a full-time designer. But if you're working to a budget, don't know where to start, or don't want to scan through thousands of graphics, Tailor Brands is a great option.
Step-by-step Logo-making Guide
If you're still wondering, how does Tailor Brands work? head over to our guide on how to make an awesome logo. We walk you through the process step by step.
3
Is Tailor Brands easy to use?
Simplicity is Tailor Brands' unique selling point. It's the kind of tool we love because it democratizes web design – suddenly anyone can get a great logo for their brand!
Let's dig a bit deeper.
Traditionally, to get a stylish logo you'd have to work with a professional designer. This involves up-front costs and lots of back and forth discussions. At the end of the commission, you may not even end up with a logo you like!
But to generate a great logo on Tailor Brands, all you need to be able to do is:
It's really that straightforward.
Here's an example from the Tailor Brands process:
Because the tool is so simple to get to grips with, it's possible to try it multiple times until you find the best logo for you.
Once you've found your design, customizing it with new fonts or colors is very intuitive. This customization might feel a little limited if you have a very clear idea in your mind of the logo you want. But for most people, the designs will be more than enough. There's also nothing stopping you taking your logo and using a tool like Adobe to jazz it up even further.
Tailor Brands also makes it very easy to preview how your logo is going to look before you decide to buy it.
You can download your logo as a high-resolution PNG or JPEG for online use, or as a printable Vector EPS file (only on the premium plan – more on plans later).
To find out how easy Tailor Brands is to use, give it a go on the button below…
4
Design: How Good Are Tailor Brands Logos?
So Tailor Brands' logos are easy to make, but are they any good?
One important thing to say is that Tailor Brands is very transparent. Whether you think the logo is good, bad or ugly, there's no hidden surprises. What you see on the screen is what your logo is going to look like.
The quality of Tailor Brands logos is high because the logos and fonts it uses are very polished.
Tailor Brands creates the most unique designs when compared to its competitors. It gets its images from a third-party vendor called Noun Project, which takes care of all licences from the image's creator.
Noun Project's library of icons is vast and the spec is very high. This is why Tailor Brands stands out among the low-effort, low-cost logo generators on the market.
Strictly speaking, there's no guarantee your design will be unique to you. That's also true of working with any designer or agency, of course!  But Tailor Brands creates over a million different logo options for every order, so it's highly unlikely your logo won't be personal to you.
Tailor Brands treads the line between simplicity and affordability, and quality of designs. It's why it's a very good option if you're a freelancer, a small business owner or entrepreneur, someone looking to create a brand online for the first time, or just if you're working to a budget but don't want to compromise completely on quality.
Just because you don't have pockets as deep as McDonald's doesn't mean you should settle for a shoddy logo design, right?
Can I trademark my Tailor Brands logo?
This is a common question from customers, so we put it to Tailor Brands.
The company told us that while you are free to use your logo for non-commercial or commercial means, if you want to trademark it you'll need to speak to an attorney.
This is because trademark laws vary from place to place.  Tailor Brands is "not able to give legal advice" (and neither are we).
5
Tailor Brands Customer Support
Even with the easiest tools in the world, it's encouraging to know help is available if you get stuck. So now's the time in our Tailor Brands review to talk about customer support.
If there's one downside to Tailor Brands it's that it doesn't offer phone support.
We know from building websites that having phone support on tap is an invaluable resource. There's nothing quite like explaining your issue to a human being.
Having said that, Tailor Brands' website has a solid FAQ section full of in-depth guides to answer your most pressing questions.
Customer support is available through an online form or through email on support@tailorbrands.com. In our first-hand experience, responses are quick, considerate and helpful. Tailor Brands says it aims to respond in 24-48 hours. We got an answer to our query comfortably within this window.
Part of the support offered, of course, is how easy Tailor Brands is to use. A lot of hard work has gone into making the logo-generating process as easy to use as possible.
We've designed tons of test logos using Tailor Brands and have never needed assistance.
6
Tailor Brands Pricing: How Much Does Tailor Brands Cost?
So how much does this all cost? No Tailor Brands review would be complete without a look at pricing.
There are three Tailor Brands subscription plans:
Basic: $9.99/month or $3.99/month if you pay for the year upfront
Standard: $19.99/month or $5.99/month if you pay for the year upfront
Premium: $49.99/month or $12.99/ month if you pay for the year upfront
There's also an extra discount if you stump up for a two-year subscription. For example, the Basic plan only costs $2.50 per month if you pay for two years upfront!
And remember, it's FREE to play around with the tool and create a logo.
All plans give you:
High-Resolution logo
Full ownership of your logo
Social media logo sizes 
Logo resize tool
When you upgrade from the Basic plan to the Standard plan, you unlock more professional features, including:
Vector EPS files of your logo
A business card and stationery tool
The Premium plan gives you even more, such as access to social media analytics and automations.  
Save 25% on any Tailor Brands premium plan when you use the code WBE25…
Yep, you read that right! We want your brand to succeed, which is why we're giving you an exclusive discount code to get 25% off your chosen Tailor Brands premium plan. 
It's important to note that you can cancel at any time and you'll still get your logo and commercial rights. You'll just lose the ongoing perks of being a Tailor Brands customer.
So if you just want to get your logo and don't want an ongoing cost, we recommend you pay for one month on the Basic plan. But if you're after a more long-term investment in your brand, and have worked out a reasonable budget, then a yearly Standard plan is worth looking at. 
The big difference between the Basic and the Standard plans is that the Standard option is a fully-fledged branding solution. The Premium plan has the tools to take your branding to the next level through social media marketing.
Tailor Brands is fairly priced because of the additional features included on the Standard and Premium plans, and the cost is roughly on a par with market rivals.
Tailor Brands is well on its way to become far more than a logo generator. It's a one-stop-shop for lots of your branding needs. To make changes to your logo, you'll need to be on a premium plan rather than the free version.
Which leads us on to…
7
Tailor Brands: Additional Services & Products
Sign up to a premium plan with Tailor Brands and you'll get access to an impressive array of products and services.
This includes:
Logo resize tool
Brand strategy advice
Business cards design tool
Social media support (including Facebook posts and adverts, and social cover design tools)
Online brand guidelines
Branded presentations
Branded business deck
Branded watermark tool (perfect if you're an artist selling images online)
We won't run through all of them here (this is a Tailor Brands review, not a sales pitch), but we'll give a digestible analysis. For a full list, visit Tailor Brands.
Tailor Brands' additional services are particularly good if social media is a big part of your brand's presence online. It will help you craft posts for Twitter, Facebook and Instagram and create perfectly-sized logos and images for each of these platforms.
You can also get support adding your logo to an email signature. These are the kind of fiddly tasks that can eat up your time, especially if you're not experienced with design. But there also tasks that if you don't do properly can make your brand look amateurish.
There's no doubt the extra tools will help you build a powerful online brand. A well-developed brand will translate to more revenue, so your monthly expense will pay off in the long run.
However, if you're looking to keep things simple then they may just be an unnecessary complication (not to mention cost!)
8
Tailor Brands Review: Conclusion
Tailor Brands is a great option if you're looking for a quick and cost-effective way to create a logo.
If you don't have the time or money to invest in a professionally-designed logo, or you're worried your tech skills aren't up to scratch, Tailor Brands might just be the answer.
It gives small-business owners and one-man-band online merchants the chance to punch above their weight in the branding arena and compete with the big boys.
Some of you may just be starting out on your branding journey. You may be unsure what you want or what's available. Tailor Brands is a good first stop to discover logo designs that can help build your brand's image.
More experienced users may find the customization options a bit limited, or be put off by the pre-designed icons.
But thanks to the features available on its premium plans, Tailor Brands can also offer a more long-term service. It can be your automated branding consultancy.